Rev. Fr. Francis Blachnicki, the Founder of the Light-Life Movement, was born in Rybnik, Poland
- March 24, 1921
Ordination for a priest in the church of St. Peter and Paul in Katowice.

- June 25, 1950
The first retreat for altar boys in Bibiela near Tarnowskie Góry (Silesia, Poland).
- 1954
Fr. Francis buys a small house in Krościenko, standing at the top of Kopia Hill. This place was to become the heart of the Light-Life Movement in Poland (now: Light-lIfe Center).

- 1964
In December Fr. Francis goes to Italy. When the martial law is proclaimed on Dec 13, 1981, he has to stay abroad.

- 1981
Fr. Francis dies in Carlsberg, Germany. It has been been proved that he was poisoned.

- February 27, 1987
The beginning of the beatification process.
- 1995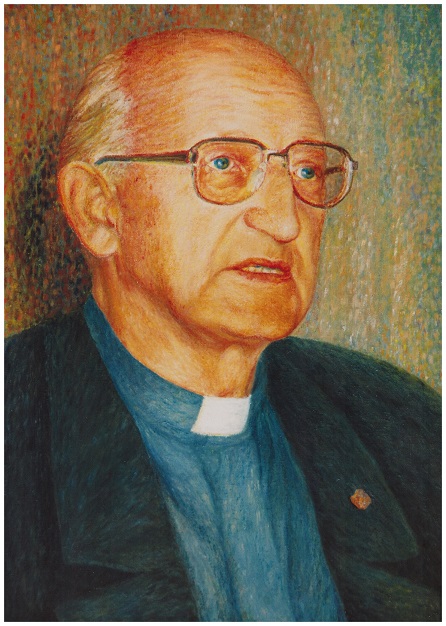 Fr. Francis Blachnicki
(1921-1987)
Fr. Francis Blachnicki was born on March 24, 1921, in the region of Silesia, Poland. As a young person, he declared the lack of faith. He was an active member of the Scout Movement and this experience proved to be very important in his life. His goal was to develop a strong personality for himself and he had great plans for building a new, great world. After matriculation he entered cadet school, in 1939 he took part in the fights against the German army and was taken prisoner. He escaped from captivity and joined the resistance movement. In 1940 he was arrested and sent to the concentration camp in Auschwitz (number 1201). Then he was moved to prison in Katowice and sentenced to death. He spent ninety days in death row and during that time he experienced conversion. Years later he wrote: "'I was like a blind man and he cured me from blindness.' Suddenly, in one second. . . At that moment I got up and began to walk around my cell and repeat to myself again and again: I believe, I believe, I believe. I did not know what I believed in yet. Later I tried to compare that experience to something else. It was as if someone switched on the light in a dark cell. Suddenly it was flooded with light." It was then that he decided to devote his life to service to God. He was pardoned and spent the rest of the war in various prisons.
After the war, he joined the seminary and was ordained a priest on June 25, 1950. He worked as a vicar in several parishes in the diocese of Katowice. He had a special gift for working with young people, both altar boys and young professionals. He helped them develop their relationship with God and encouraged them to work on themselves. During this time he began to develop a new method of retreats for young people, the so-called experiential retreats, based not only on listening to presentations but on the experience of unity with God and with other people. That, joined with Fr. Blachnicki's enthusiasm for the post-conciliar liturgical renewal, gave rise to the whole new formation system recognized as the Light-Life Movement (Oasis Movement) which now gathers together people of various ages and vocations: children, teenagers, adults, families, priests, religious and members of lay institutes of consecrated life.
In his diocese Fr. Blachnicki was also a member of the Diocesan Pastoral Council and of the editorial staff of the diocesan weekly magazine. He was also active in the field of social work. Seeing the misery brought by alcoholism he founded the "Temperance Crusade," a movement promoting abstinence from alcohol. This kind of work proved to be very successful on the one hand and very unpopular with the Communist authorities on the other, and as such was unexpectedly eliminated in 1960. Despite many difficulties Fr. Blachnicki continued his work in the field of evangelization and social justice to the end of his life, being the founder not only of the Light-Life Movement but also of the Crusade for Human Liberation (Christian rescue for Internal Liberation) and Christian Service for the Liberation of Nations. He might be also called one of the fathers of practical ecumenism in Poland.
While studying at the Catholic University of Lublin and then as a lecturer at this university in the 1960s, Fr. Blachnicki was particularly interested in pastoral theology and implementation of the teaching of the Second Vatican Council. His keen interest in liturgy and pastoral issues, as well as his independent spirit and fearlessness in dealing with the Communist authorities were well known and gained him also the friendship of Cardinal Karol Wojtyla, the future pope John Paul II.
In 1981, when martial law was established in Poland, Fr. Blachnicki was abroad. As he could not return to Poland (he would be arrested immediately), a new period of his life began. He finally settled in Carlsberg, Germany, and founded Evangelization Centre "Marianum" there. This tiny village became a spiritual center, radiating with faith and Christian freedom, for Polish refugees in Germany and other Western countries. Fr. Blachnicki died there in on February 27, 1987. In 2023, a state commissioin finally declared that he had been poisoned. His mortal remains were moved to a special tomb in the church in Krościenko nad Dunajcem where the main center of the Light-Life Movement is located.
Fr. Blachnicki is the spiritual father not only of the Light-Life Movement, but also of the Institute of the Immaculate Mother of the Church, a lay institute of consecrated life, and the Union of Priests of Christ the Servant. His work and his spiritual writings continue to inspire people all over the world. He was truly "one of the violent who take the heavenly kingdom by storm," as John Paul II wrote after his death.
In 2015 Pope Francis signed the decree of heroic virtues of Fr. Francis.